42 year-old Mr. Chang had an accident while mountain climbing in December 2021. He broke the 5th to 7th cervical vertebrae and was paralyzed from the chest down. He was sent to China Medical University Hospital after emergency rescue, and underwent the first dose of stem cell therapy with his own bone-marrow-derived mesenchymal stem cells (BM-MSCs) in March 2022. The procedure was performed by the CMUH Spine Center with the supervision of many neurosurgical experts. Mr. Chang has completed five doses of BM-MSCs treatment to date as part of an aggressive rehabilitation plan. CMUH Spine Center Assistant Director and Director of Minimally Invasive Spine Surgery, Neurosurgery Department, Dr. Cheng-Di Chiu said that Mr. Chang has made significant progress post-BM-MSCs therapy, and he can hold both hands up stably – a big step in the right direction after being unable to control his own body or sit up in bed. He can now eat his meals with assistant tableware. By the seventh month after treatment, enhanced electromyography signals of his sphincter muscles were observed in the examination of the urodynamic study (UDS) (Figure 1), which reflects a progressive neural response of the local detrusor muscles. There were also progressive nerve electrophysiological signals of the left upper limbs observed from the nerve electrophysiological examination data (Figure 2).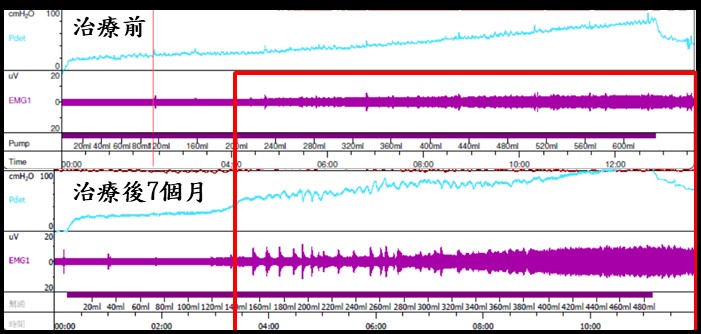 (Figure 1)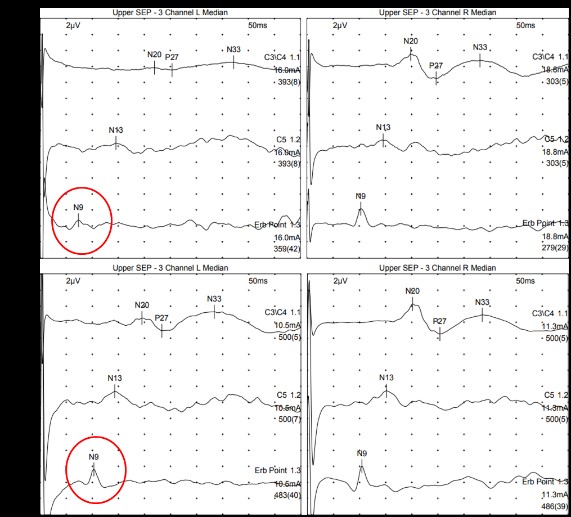 (Figure 2)
CMUH Spine Center Assistant Director Dr. Cheng-Di Chiu said that spinal cord injuries are an acute injury of the spinal cord. Most traumatic cases are caused by traffic accidents or falling from a high place; once the spine is injured, some motor or sensory dysfunctions occur of different severities, causing various levels of impact, including motor or sensory functional disorders, sexual dysfunction, dermal complication disorders, and dysautonomia. Among these cases, only around 10% of patients typically recover and return to their normal lives, but still have to pay a huge medical costs over the treatment period, posing a heavy economic burden for both patients and their families.
Traditional approaches, also current routine treatments, help alleviate some of the stress through surgeries to stabilize and treat the primary injured area, or medication interventions to prevent secondary injuries, like inflammation, neural degradation, blood-spinal cord barrier dysfunction, neuron death, demyelination, and neural pathway blockages. However, due to the limitations of the central nervous system, the self-repairing effects of human nerves are limited and traditional routine treatment does not result in nerve regeneration nor a successful treatment outcome. Since stem cells can provide not only the environment and nutrients to repair the neurons but also protect the tissue, modulate the immune system, and regenerate the axon and myelin sheath, stem cell therapy has become a new strategy for post-spinal-cord-injury nerve regeneration and repair.
China Medical University Hospital has earned recognition in the 2022 National Innovation Award with its "precise objective stem cell therapy system for spinal cord injuries". The winning team included the Neurosurgery Department Director, Dr. Cheng-Di Chiu, Orthopedic Department Director, Dr. Hsien-Te Chen, Medical Imaging Department Director, Dr. Wei-Liang Chen, and the Cell Therapy Center. The innovative study addressed the uniqueness and strategic design of treating spinal cord injuries using bone-marrow-derived mesenchymal stem cells. Leveraging the dynamic calibration navigating system and combined imaging management technologies to inject cells precisely, as well as a standard and objective medical imaging system assessment, the cell therapy effects on spinal cord injuries were clear.
The developed bone-marrow-derived mesenchymal stem cell therapy is based on neural nutrition and cell therapy. It is suitable for patients aged 20 and above who have developed Grade A/B spinal cord injuries within one year, and who are conscious and have normal liver function as well as meeting other eligibility criteria. Bone-marrow-derived mesenchymal stem cell therapy can directly and indirectly provide the required nutrients for the injured area of the spinal cord to perform multiple functions to divide neurons and glial cells, and may also reduce the loss of myelin sheath to facilitate the regeneration and repair of injured cells of the spinal cord, bringing new hope to paralyzed patients with multidimensional treatment effects.