China Medical University Hospital
In the post-COVID-19 pandemic era, how can new doctor-patient relationships thrive? China Medical University Hospital starts from a professional standpoint to protect the health of all Chinese people around the world. Through cross-territorial collaboration in medical fields and with IoT smart B2B industries, telemedicine was born. Following the guidance of the government, telemedicine consultation services started in rural areas of Taiwan and expanded to international level. Furthermore, it has developed to become a one-stop medical service. MET, CMUH and EUCARE Co., LTD. have worked together to follow international medical development government policies and the New Southbound Policy to develop telemedicine. Both CMUH and EUCARE Co., LTD. have even formed an alliance as an executive medical system, expanding from the original emergency department to all specialties where the EUCARE Co., LTD. international telemedicine consulting system integrated platform is live.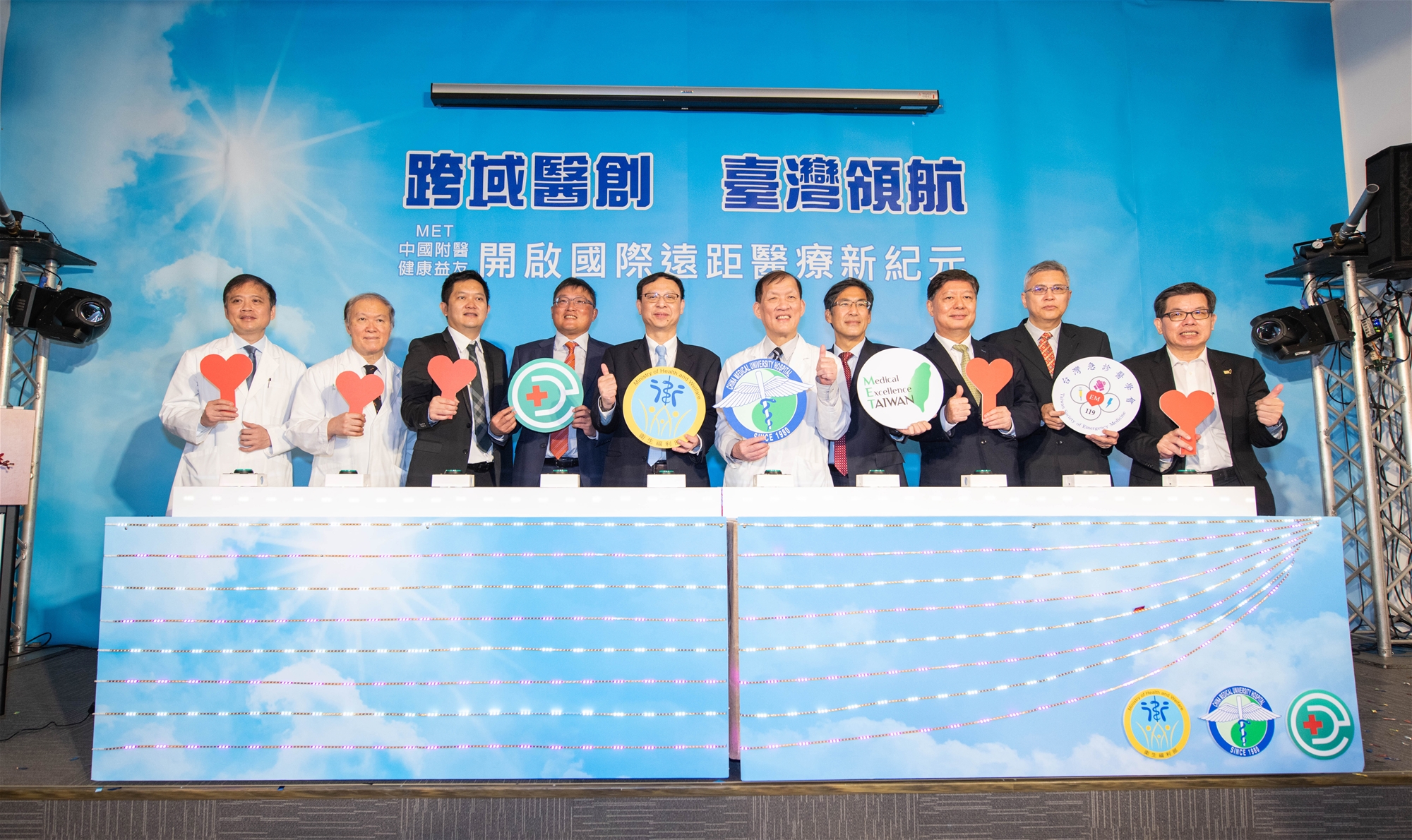 Ministry of Health and Welfare Deputy Minister Chung-Liang Shih, CMUH Superintendent Der-Yang Cho, MET Vice President Chien-Zie Chen, MET Director Erh-Hui Tsai, MET CEO Ming-Yen Wu, Taiwan Society of Emergency Medicine Chairman Chih-Jen Huang, Collins Co., Ltd. CEO Jessy Lee, EUCARE Co., LTD. Chairman Alex Chuang, CMUH International Medical Center Superintendent Hung-Chi Chen, and Body Science and Metabolic Disorders International Medical Center Superintendent Chih-Kun Huang gathered for the initiation ceremony to mark a new milestone and new century for Taiwan international telemedicine and initiate the global distribution of this technology.
MOHW consolidates all resources, leading telemedicine from rural areas of Taiwan to international level. CMUH invests all efforts to make this a reality
CMUH and EUCARE Co., LTD. have even formed an alliance, expanding from the original emergency department to all specialties for a one-stop service.
Superintendent Der-Yang Cho, CMUH, said while welcoming guests, that this August CMUH joined the "national health insurance telemedicine reimbursement program" initiated by the National Health Insurance Administration, MOHW, to serve rural areas and care for underprivileged groups. CMUH now qualifies as an executive institute of the telemedicine program. We are allies with EUCARE Co., LTD. to provide EUCARE Co., LTD. international telemedicine consulting system integrated platform services (app and on the web), stepping from the emergency room and into a medical center with full consultation capabilities covering all specialties. The platform is extensive with excellent medical consultation services and also provides international medical services as a one-stop option for all "landing" services. It is truly excellent having integrated resources and cross-territorial capabilities consolidated by the MOHW so mass medical demands from many patients can be met.
EUCARE Co., LTD. Chairman Alex Chuang said that EUCARE Co., LTD. is dedicated to the integration of remote smart medicine services to provide a medical service platform with a humanitarian touch and excellent remote medical service model, which is also the only medical platform with 24 hours online assistance by doctors who specialize in emergency medicine. CMUH is a medical center providing consultation services with all kinds of medical specialties to provide the most required medical assistance for both domestic and international patients. The EUCARE Co., LTD. app is a medical platform built in collaboration with the MOHW policy and all team members have wide-ranging medical expertise and professional backgrounds. The platform has been created to provide excellency in medical services. Both the app and online website functionalities are highly recognized by Taiwanese companies and those overseas. It is now fully integrated so treatments and illnesses can be monitored and health management solutions followed routinely. By entering the international community, it reflects the efficiency of government integrated resources and the high level of protection we take to safeguard people's health.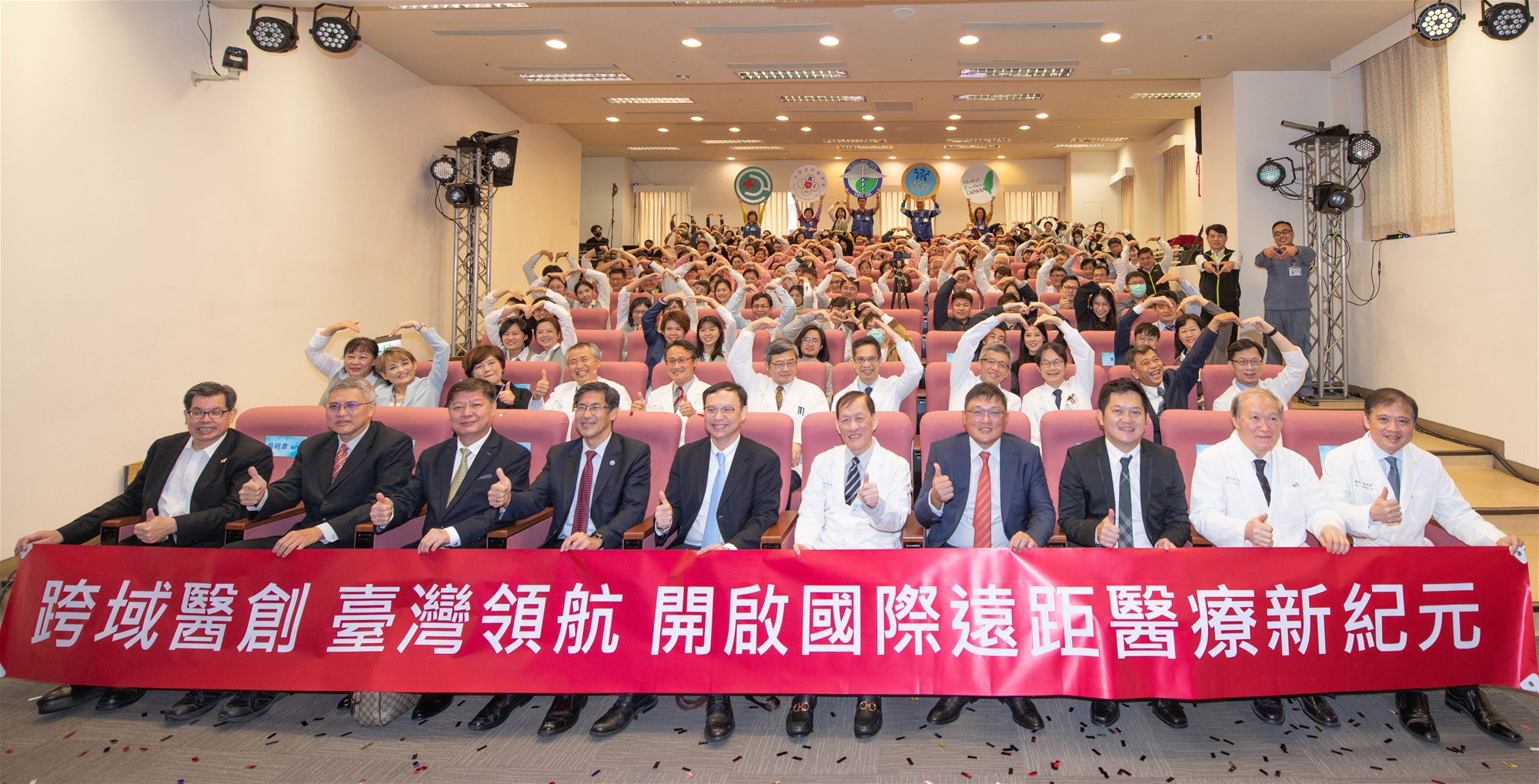 Remote smart medicine pilot MET. Taiwan Society of Emergency Medicine works together to facilitate and upgrade the internationalization and industrialization of the medical health industry
The MOHW is planning to promote the internationalization of the Taiwan medical health industry and support forming Medical Excellence TAIWAN (MET) as a banner for all medical centers, including China Medical University Hospital, Chang Gung Memorial Hospital and others (12 in total including groups) to upgrade their international medical services and facilitate the export of the medical expertise of Taiwan. The aim is to allow the quality of services and professional medical care of Taiwan to be seen on international level, including our digital medical alliances and innovative medical model without borders.
CMUH has been highly recognized by Taiwan's "International Medical Model Award" as well as being the winner for two consecutive years of the "IMTJ Medical Travel Award". The hospital is continuously making efforts in the field of international medicine. In the future, CMUH will continue to follow an aggressive strategy to integrate across territories, bring more innovative medicine to the fore and collaborate to develop a new stage for Taiwan international medicine under the leadership of the government.
EUCARE Co., LTD. aligns its strategy with government policies to execute MET assignments and by working with an important partner, the Taiwan Society of Emergency Medicine, has built a telemedicine platform to be used by medical centers to facilitate telemedicine, digital medicine and online healthcare. Don't forget to download the EUCARE Co., LTD. app!