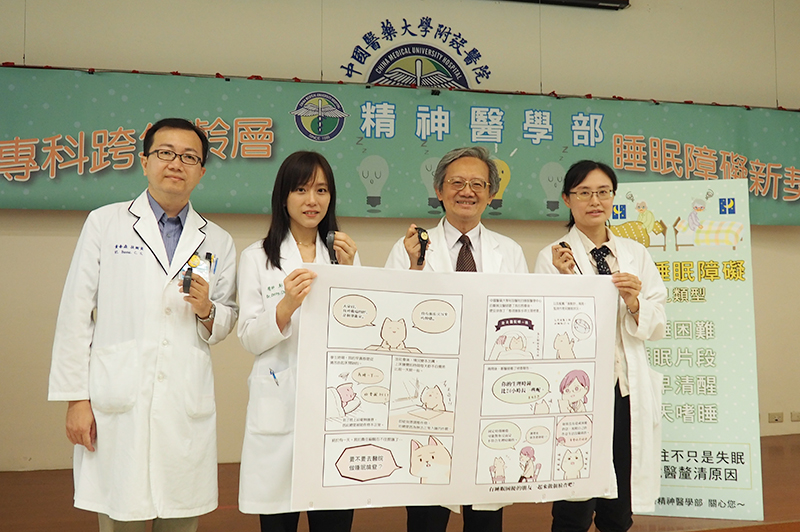 Dr. Wan-Ju Cheng, Department of Psychiatry and Sleep Center/
Dr. Chin Cheng, Department of Psychiatry and Dementia Center
Modern people have many sleep disorders. According to the Sleep Survey of the Taiwan Society of Sleep Medicine in 2015, one out of every five people in Taiwan has trouble with insomnia. Particularly, the elder people and adolescents more often suffer from sleep disturbance due to advanced sleep phase syndrome or delayed sleep phase syndrome, and sleep disorders. China Medical University Hospital combined the Department of Psychiatry, Sleep Center, and Dementia Care Center as an interdisciplinary team, using technology-assisted diagnostic tools, to allow people to complete tests at home to help identify the causes of various types of sleep disorders.
Causes of sleep disturbance in older people and dementia are complicated.
Interdisciplinary team makes correct diagnoses diagnoses and provides all-round care
You may often hear about complaints from the elderly. They want to go to bed early in the evening, but they cannot really fall into sleep when it is time for sleep. They sleep intermittently at night, get up and cannot sleep anymore early in the morning, and often take a nap during the day. Dr. Chin Cheng, attending psychiatrist in the Department of Psychiatry and Dementia Center in China Medical University, said that as the age increases, the entire sleep phase advances. Many older people's sleep begins to be irregular and less efficient and this is more obvious in patients with dementia, which deeply bother patients and caregivers.

According to statistics, more than half of dementia patients have sleep or wake cycle disorders, combined with other psychiatric symptoms of dementia. The overall appearance is variable, including sundown syndrome, rapid eye movement sleep dysfunction of Lewy body dementia, leg restlessness syndrome in Parkinson's disease, and paroxysmal leg movement disorder. These symptoms are not only as simple as "insomnia". The China Medical University Hospital combined Department of Psychiatry, Sleep Center, and Dementia Center as an inter-disciplinary force to help patients find out the more complicated reasons behind insomnia, further correct diagnoses and treatment, and solve the long-term problems of patients.

Many of the people who complain about insomnia actually present with signs of other diseases, but they are often neglected. For example, advanced sleep phase syndrome is one of the common complaints of insomnia and this could be one of the signs in dementia. However, older people are at higher risk of use of sedatives, including falls, respiratory depression, drug interaction, etc., and therefore causes of insomnia complaints should be carefully assessed. Take advanced sleep phase syndrome for example, appropriate time of illumination, exercise, and sleep-limiting treatment can improve sleep effectively.
Technology-assisted diagnosis, hospitalization exempted
The Attending physician of sleep center and psychiatric department, Dr. Wan-Ju Cheng stated that, sleep disturbance suffers not only the elderly but also young adults and adolescents. Many young patients visited their doctor during summer vacation for sleep-wake schedule disturbance, and some of them cannot attend school on time. The sleep center of CMUH had discovered a patient, whose sleep-wake schedule delayed day after day, rendering the patient unable to attend the school and go to bed regularly since childhood. This is a rare case of non-24-hour sleep-wake disorder. Furthermore, there are 20% workers who work shifts in Taiwan. Among them, one-third suffers from sleep disturbances. The above conditions are all circadian rhythm disorders, and are often treated as insomnia with unnecessary sleeping pills. The sleep center of CMUH utilized the latest type of actigraphy to assist differential diagnosis of sleep disturbance. Actigraphy is designed to be worn by patients for 14 days, during which time the patients maintain their regular life schedule. The patients do not have to stay in the hospital as polysomnography. Therefore, their real-life sleep conditions can be recorded and assessed.
We invited our patient Nyaroro, who is also an active cartoon writer, to share her diagnosis and treatment process with us.