Our Speciality
1. Advanced imaging instrument
Equipped with one 640-slice low-dose computed tomography (CT) scanner, one 128-slice low-dose CT scanner, two 1.5T magnetic resonance imaging (MRI) scanners and positron tomography instrument (PET) facilities, offering complete and detailed examinations of coronary artery and cancer screening.
Low-radiation dose lung CT scan
The 640-slice and 128-slice high-speed low-radiation dose CT scanners in the center can perform lung examinations. Such instruments are able to detect small lung lesions that can't be seen via general chest X-rays, and have a lower radiation exposure advantage than conventional CT scans. A low-dose CT scanner can scan the whole lung in a few seconds. Each cross-section image of the lung can be reorganized without an injection of developer, which is convenient and fast. It also reduces the risk of drug allergy by using no developer. Moreover, the radiation of the low-dose CT scan is 1/10 of the conventional one, which could limit patients' exposure to radiation.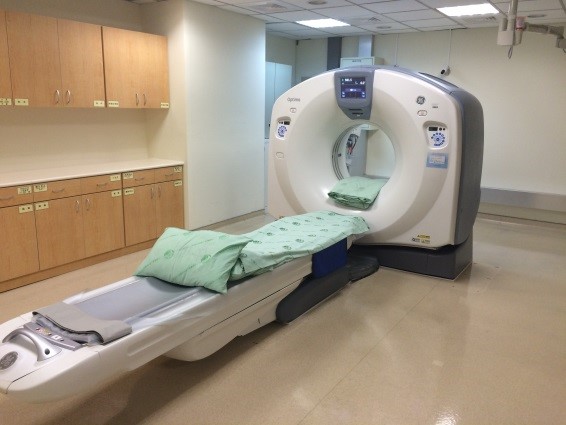 128-slice low-radiation lung CT scanner.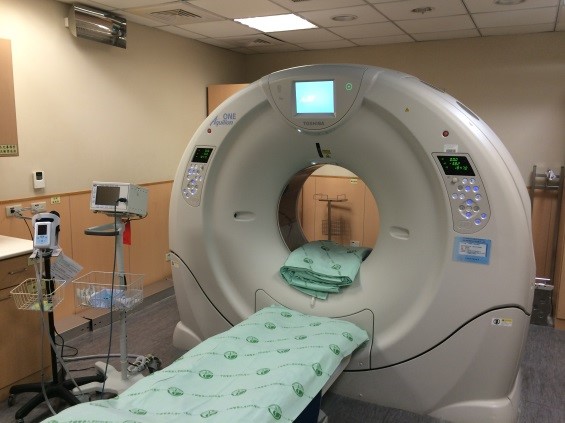 640-slice low-radiation lung CT scanner.
Low-dose coronary artery CT scan
A 640-slice coronary artery CT scan can provide complete coronary artery evaluations, identify arteriosclerosis, plaques, and calcified lesions, and offer more accurate assessments of future cardiovascular risks by calculating the Agatston score. The possible risk of invasive examinations is avoided, compared to past needs for cardiac catheterization to check the obstruction of coronary artery stenosis. Instead of the early 64-slice CT scanning, 640-slice CT can bring the whole heart into the scan area, thereby significantly reducing the exposure of radiation and providing a complete examination of cases with arrhythmia and tachycardia. After the examination is completed, the radiologist and the cardiologist will make a joint interpretation and complete the report.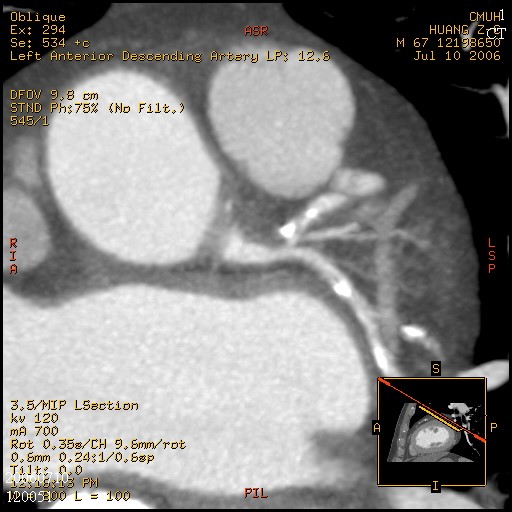 Coronary artery calcified plaques can be clearly seen through CT scanning.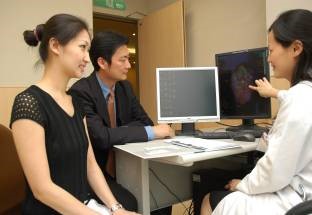 General MRI examination
Magnetic resonance imaging (MRI) is an accurate and noninvasive, nonradioactive, radiation injury-free diagnostic technique, able to quickly capture high-resolution and high-contrast images and provide precise differential and diagnostic basis for small lesions. It is fit for the diagnosis of cancer and soft tissue lesions. There are two 1.5T MRI scanners in the center, which can conduct the examinations of the brain, neck, abdomen, pelvic cavity, cervical vertebra, thoracic vertebra, and lumbar vertebrae.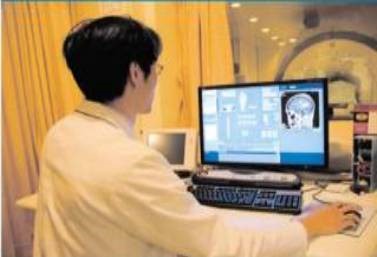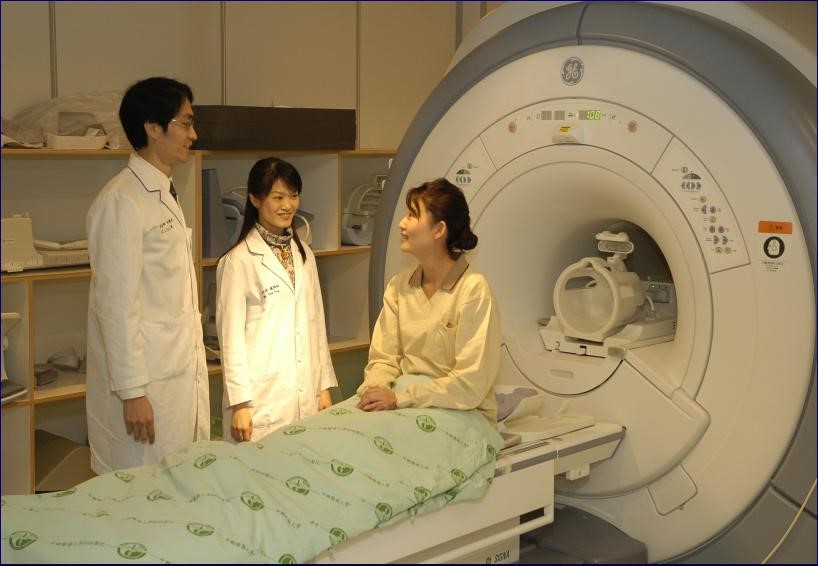 The center is equipped with two MRI scanners dedicated to checkups.
PET-CT
Positron emission tomography–computed tomography (PET-CT) can be used to carry out early detection of cancer cells. The normal cell activity needs to consume glucose, and the cancer cells split very quickly, the metabolism is very active, and thus the glucose intake is 2 to 10 times that of the normal cells. Therefore, PET-CT employs this principle to identify the trace of cancer cells, with 92 to 100% of accuracy, and is a powerful tool for cancer screening.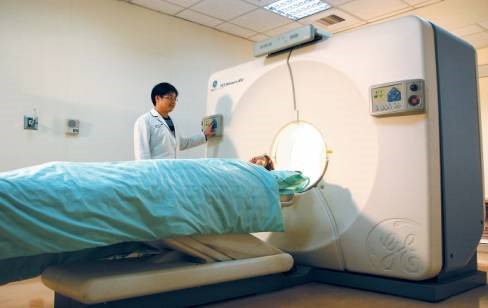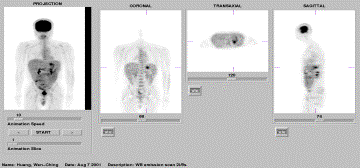 PET-CT
2. TCM checkups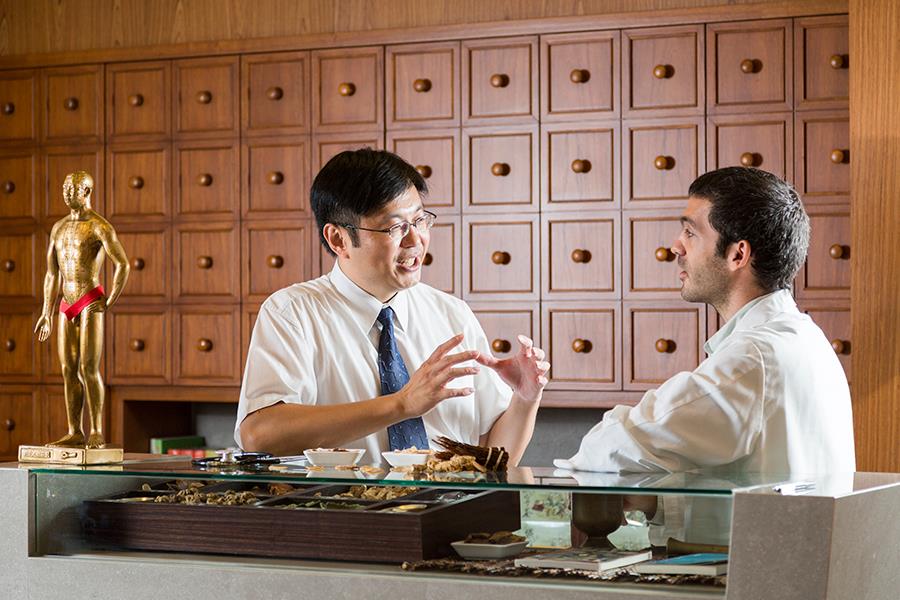 The hospital's traditional Chinese medicine (TCM) department is a traditional medical teaching and diagnosis and treatment center for offering the most complete and diversified services in Taiwan. With this advantage, the hospital has set up a TCM health center on the 11th floor of the preventive medicine center, providing integrated TCM physical checkups. In combination with TCM doctors' four methods of diagnosis—"inspection, listening and smelling, inquiry, pulse-taking"—for basic assessment coupled with the examination results of various TCM instruments, such as on pulse, microcirculation of nail fold, meridian, ear acupoint ryodo points, and autonomic nerve function, with the aim of understanding the types and tendencies of individual constitutions, and proposing daily dietary advice and health maintenance, and improvement suggestions after abnormal examination results.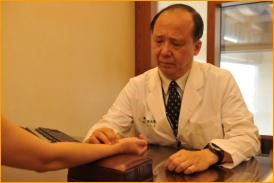 TCM physical examination and assessment.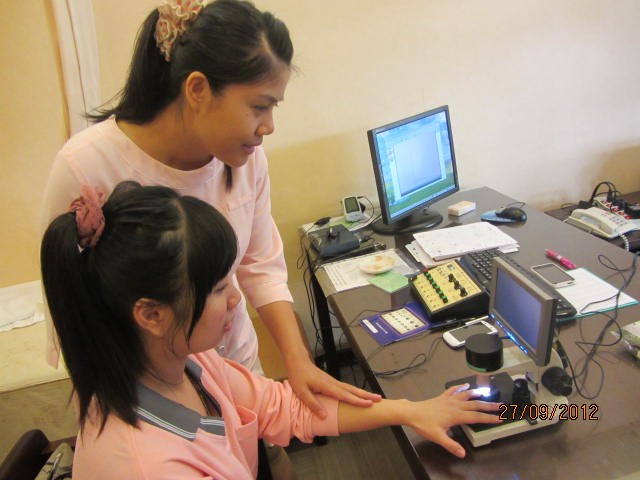 Microcirculation of nail fold examination.
3. Genetic testing
Genetic testing is one of the most sophisticated medical technologies in recent years. Not only is it able to diagnose genetic diseases and congenital metabolic diseases, but also by different gene sequencing, understand the physique, assess the risk of developing various diseases, and tailor the most appropriate health management services. The hospital has set up the Genetic Medicine department composed of a cell genetics laboratory, biochemical genetics laboratory, and human genetics laboratory for providing genetic testing and genetic disease consultation and identification services. The biochemical genetics laboratory has a tandem mass spectrometer (LC/MS/MS) for the rapid and correct diagnosis of congenital metabolic diseases. The human genetics laboratory is devoted to using molecular biology technology to analyze all kinds of genetic diseases in Taiwan people, including Wilson disease, oculocutaneous albinism, mucoploysaccharidosis, and glycogen storage disease. We have found over 60 new mutational sites and published over 100 papers in the international academic journals.
Genetic testing in the hospital currently provides human exome gene sequencing sets, covering about 85% of the pathogenic mutated genovariation and targeting genetic or complex diseases' common single nucleotide polymorphism (SNP), copy number variation (CNV), and small-fragment gene sequence insertion or deletion of gene sequencing; cancer hotspot gene set sequencing aimed at gene sequencing of 50 common cancer gene loci and drug target genes, and cancer gene set sequencing in which the overall cancer gene set is gene sequencing of 409 common whole-exome cancer genes, drug targets, signal transduction, apoptosis, DNA repair, transcriptional regulation, inflammatory response, and growth factors.
4. Painless gastrointestinal endoscopy
The center's gastrointestinal endoscopy has overall used painless intravenous anesthesia to relieve the examinees' discomfort during examination. Anesthetic equipment is perfect, and the anesthesiologist will monitor the whole process for 30 minutes to provide safe, comfortable, painless, detailed, and thorough examinations. In addition, the endoscopy system can be changed at any time to narrow band imaging (NBI) for the differential diagnosis of early-stage cancer.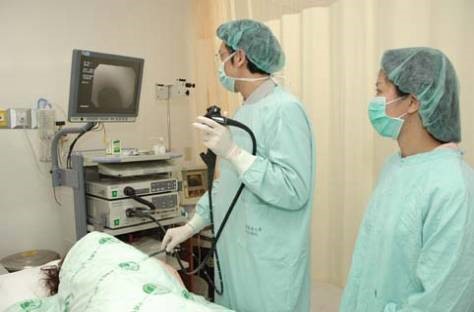 Gastrointestinal endoscopy.