AI-based medical diagnosis system for meniscus tear
Meniscus are two C-shaped pieces of fibro-cartilaginous discs between the femur and the tibia in each of knees that help to stabilize the knee joint and act as a cushion between two bones. Meniscus may be injured or tore because of aging or extrinsic factor, such as severe sports injury, car accident and other accidental damages, followed with pain and swollen knee.
According to the statistics, more than 850,000 person encountered acute meniscus tear every year in the United States in 2010, and Japan have about 30,000 meniscus surgeries each year between 2011 and 2016.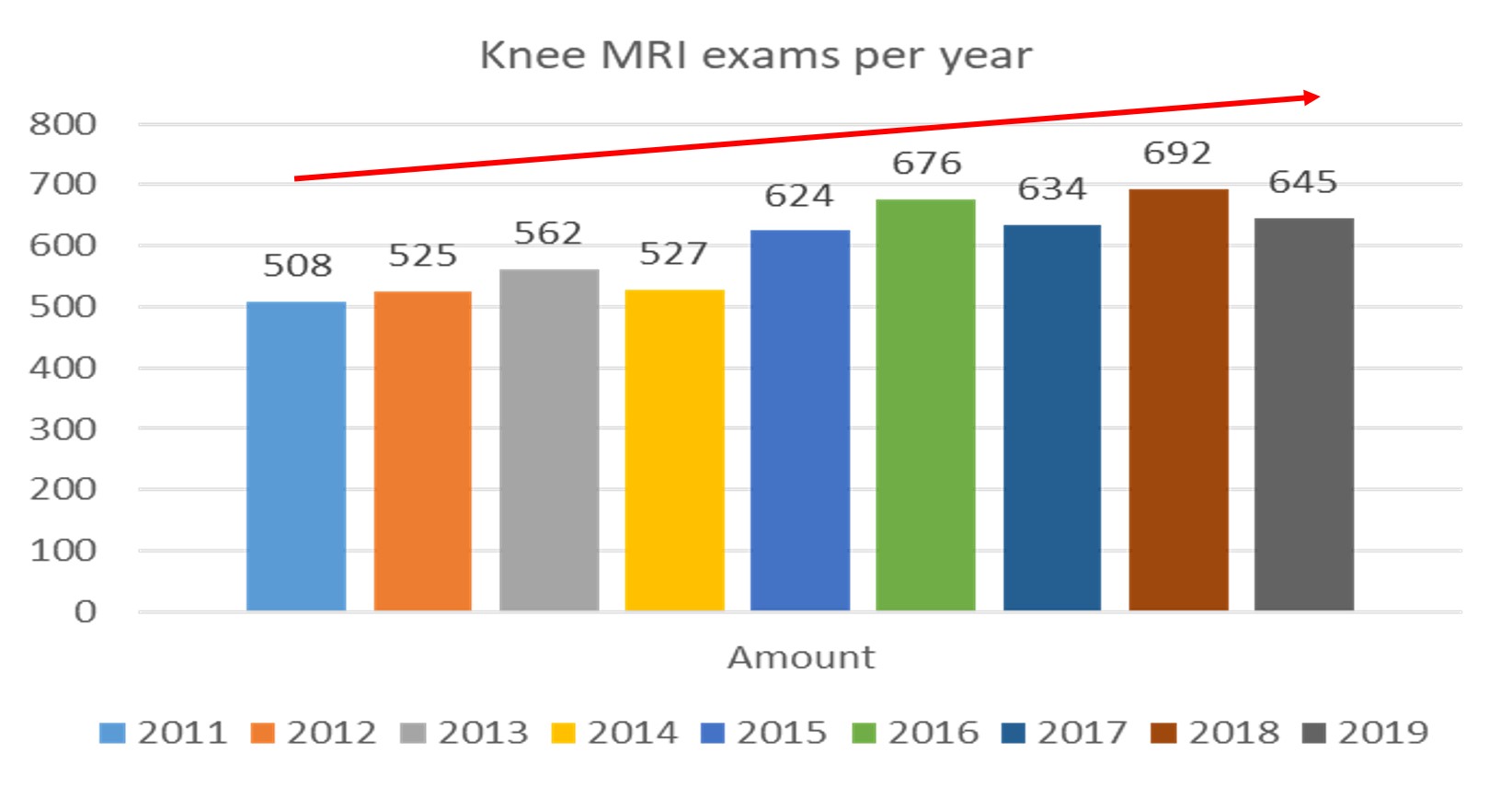 ▲ Increasing numbers of patient received knee MRI needs a more rapid and precise method to improve doctors' workload.
Most of the torn meniscus can be detected by reading the magnetic resonance (MR) images, shown as abnormal brightness or a straight line across the meniscus. However, some torn meniscus were hard to find in MR images because of the angle of the tear, that makes the physicians to spend more time to determine whether the meniscus is tear or not (about 3 to 10 minutes on average).
Our AI system use 811 cases of knee MR images with labels from professional orthopedist and radiologist to train the deep learning model. By means of the AI detection system, well-trained medical personnel can determine the patient with torn meniscus rapidly and reduce the workload of the physicians. Our AI system goes live in CMUH since May 2022, and has already predicted for over 400 cases, helping orthopedists to determine whether the meniscus is tear or not. After using the system, the orthopedists can reduce about 40% of time to examine the meniscus tear, and the accuracy is also improved about 4%.
---
Achievements
Conferences:
"Development of Artificial Intelligence-Based Clinical Decision Support System for Diagnosis of Meniscal Injury from Magnetic Resonance Images" (Oral), 2021 Annual Meeting of Taiwan Orthopaedic Association.
Papers:
"Development of artificial intelligence-based clinical decision support system for diagnosis of meniscal injury using magnetic resonance images.", Biomedical Signal Processing and Control 82 (2023): 104523, Chou, Y. T., Lin, C. T., Chang, T. A., Wu, Y. L., Yu, C. E., Ho, T. Y., Chen, H. Y., Hsu, K. C. & Lee, O. K. S.
Patent:
Establishing Method of Aided Estimation Program for Meniscus Tear, Aided Estimation System for Meniscus Tear, and Aided Estimation Method for Determining for Meniscus Tear
Assignee:
China Medical University Hospital, Taichung City, Taiwan
Inventor:
Kuang-Sheng Lee, Kai-Cheng Hsu, Ya-Lun Wu, Ching-Ting Lin
Product:
Meniscus Tear Estimating System for Knee Magnetic Resonance Images
Collaborative Organization: EverFortune.ai co., ltd.