TCM Ophthalmic Care – Acupoints 中醫眼科保健─穴位篇(英文)

TCM Ophthalmic Care – Acupoints 中醫眼科保健─穴位篇(英文)
2020/12/22
The ancient Chinese ophthalmology books have documented many eye diseases and related symptoms, including "chronic conjunctivitis" - no swelling, no redness, no refreshing, dryness and vision fatigue, similar to modern medicine's xerophthalmia; "floaters" - symptoms such as "oblique vision," "seeing red as white," "faint vision," etc. are related to the symptoms of retinopathy, including the sudden darkening and shrinking of the image when looking at something, or even distortion and deformation of straight lines, decreased color sensitivity, abnormalities, etc.
TCM eye protection points─zan zhu, yu yao, tong zi liao, si bai, jing ming
By massaging the acupuncture points around the eyes, as shown below, you can enliven the local qi and blood circulation of the eyes and relieve the feeling of eye fatigue You can use a finger pulp or a curved finger joint to press each acupuncture point 10 times, pressing moderately until there is a slight sour swelling sensation, with three cycles at a time, three to five times a day.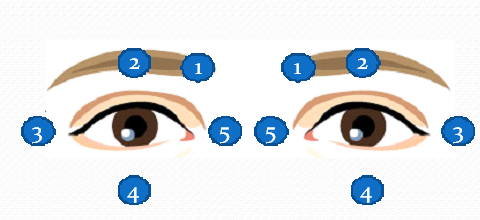 TCM eye protection points:
Zan zhu
Yu yao
Tong zi liao
Si bai
Note: Each acupuncture point is located at the orbital fissure; avoid direct pressure on the eye.
Daily life precautions
Lead a normal lifestyle, get enough sleep and don't be a night owl. It's advisable to go to bed before 11:00 p.m. every night, especially between 11:00 p.m. and 3:00 a.m. the next morning.
Eat a balanced diet with less irritating, hot foods (e.g., peppers, chili, roasted, deep-fried and stir-fried peanuts).
Give your eyes a good rest, especially for phubbers. Take a 10-minute break every 30 minutes for looking at computer screens, watching TV, reading, etc.
Read with plenty of ambient light, don't read in a rocking car, and don't lie down to read.
若有任何疑問,請不吝與我們聯絡
電話:(04) 22052121 分機 1185
HE-90109-E

中國醫藥大學附設醫院暨體系院所

}