Chromosome amount abnormality detection
There are 23 pairs of chromosomes (46 in total) in the human body, which are classified as chromosomes 1 to 23 in medicine according to their length and order. Chromosomes and genes play a very important role in medical genetics, and they also have a profound impact on infant mortality and congenital disabilities.
Chromosomal gene chip detection can be used to diagnose related genetic diseases, such as related diseases of abnormal chromosome amount: Down's syndrome (no. 21 more than two), Edwards syndrome (no. 18 more than two), Patau syndrome (no. 13 more than two) and Turner syndrome (loss of an X chromosome), etc.
Due to mainly manual work and long working hours of traditional chromosome detection methods, there is still great room for improvement in related medical services. In order to solve the above-mentioned clinical problems of chromosome genetic testing, this system uses big data, artificial intelligence and other technologies to train genetic images under the microscope, which can not only quickly arrange 23 pairs of chromosomes in the human body, but also quickly screen and detect potentially abnormal chromosomes (such as abnormal amounts). It can also provide AI results of abnormal chromosomes to clinical specialists for further confirmation.
The traditional interpretation of a case takes 2.5 hours; while the AI-assisted karyotype analysis of a patient only takes 0.001 seconds to generate a report, which greatly improves the efficiency of chromosome analysis. Current system accuracy: 92%.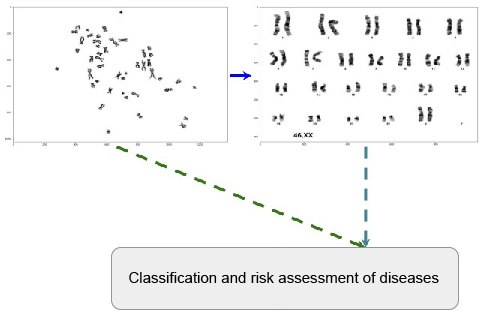 (Figure description) Schematic diagram of abnormal chromosome amount detection and automatic arrangement