AI-assisted acute myocardial infarction clinical decision support system and AIoT remote application
In Taiwan, heart disease ranks the second highest cause of death, and it consumes a lot of medical resources every year, especially acute myocardial infarction. According to statistics from the National Health Insurance Administration, there were more than 48,000 patients with myocardial infarction in 2018, and one out of every eight patients was under the age of 50, showing a trend toward younger generation.
In general, the medical guidelines for acute ST-segment elevation and acute myocardial infarction recommend that the time from the patient's admission to the emergency department for implementing balloon dilation to restore cardiac blood flow (Door-to-balloon time, D2B) should be within 90 minutes. However, since part of patients with chest pain have atypical symptoms or due to delayed ECG interpretation, these patients have often been helpless and led to delayed treatment, which highlights the importance of early diagnosis and immediate opening of blocked blood vessels.
In order to provide immediate and effective medical care for emergency patients and strive for golden rescue time, our hospital has formed a cross-disciplinary team of AI center and cardiovascular center to develop an AI-assisted STEMI ECG interpretation system. This system uses AI algorithm to analyze the changes of ECG signal, and combined with the mobile phone to send messages in real time, which greatly reduces the D2B time. "24/7 Intelligent Assistance System for Acute Myocardial Infarction" even won the honor of the 17th National Innovation Award in 2020.
The current system performance is: ACC (accuracy) 99%, Precision (accuracy) 80% Sensitivity (sensitivity) 99%. This system is under simultaneous review of both Taiwan and US medical licenses.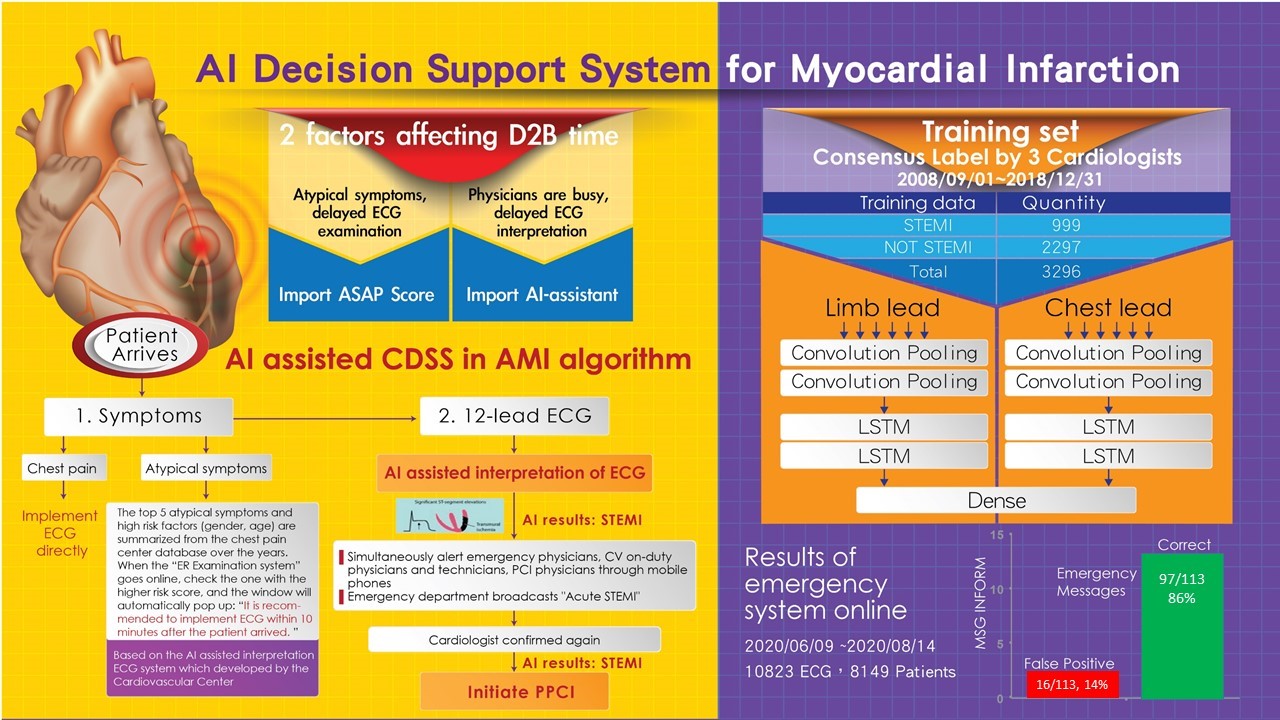 (Figure description)AI-assisted acute myocardial infarction clinical decision support system
This year, we further collaborated with QT medical in software and hardware. Combining the portable ECG equipment PCA 500 developed by QT medical and the AI-assisted clinical decision support system for acute myocardial infarction, we have completed the "STEMI pre-hospital remote auxiliary diagnosis system", allowing the most Front-line EMT ambulance attendants can conduct AI-assisted diagnosis of STEMI at the first contact with the patient, and transmit the electrocardiogram and auxiliary diagnosis results to the mobile phone of the cardiologist for reconfirmation at the same time.
As of the end of September this year, the STEMI pre-hospital remote auxiliary diagnosis system has been deployed in a total of 11 fire stations in Taichung and Nantou, and has assisted nearly 55 people with suspected myocardial infarction in seeking medical treatment, achieving good clinical results.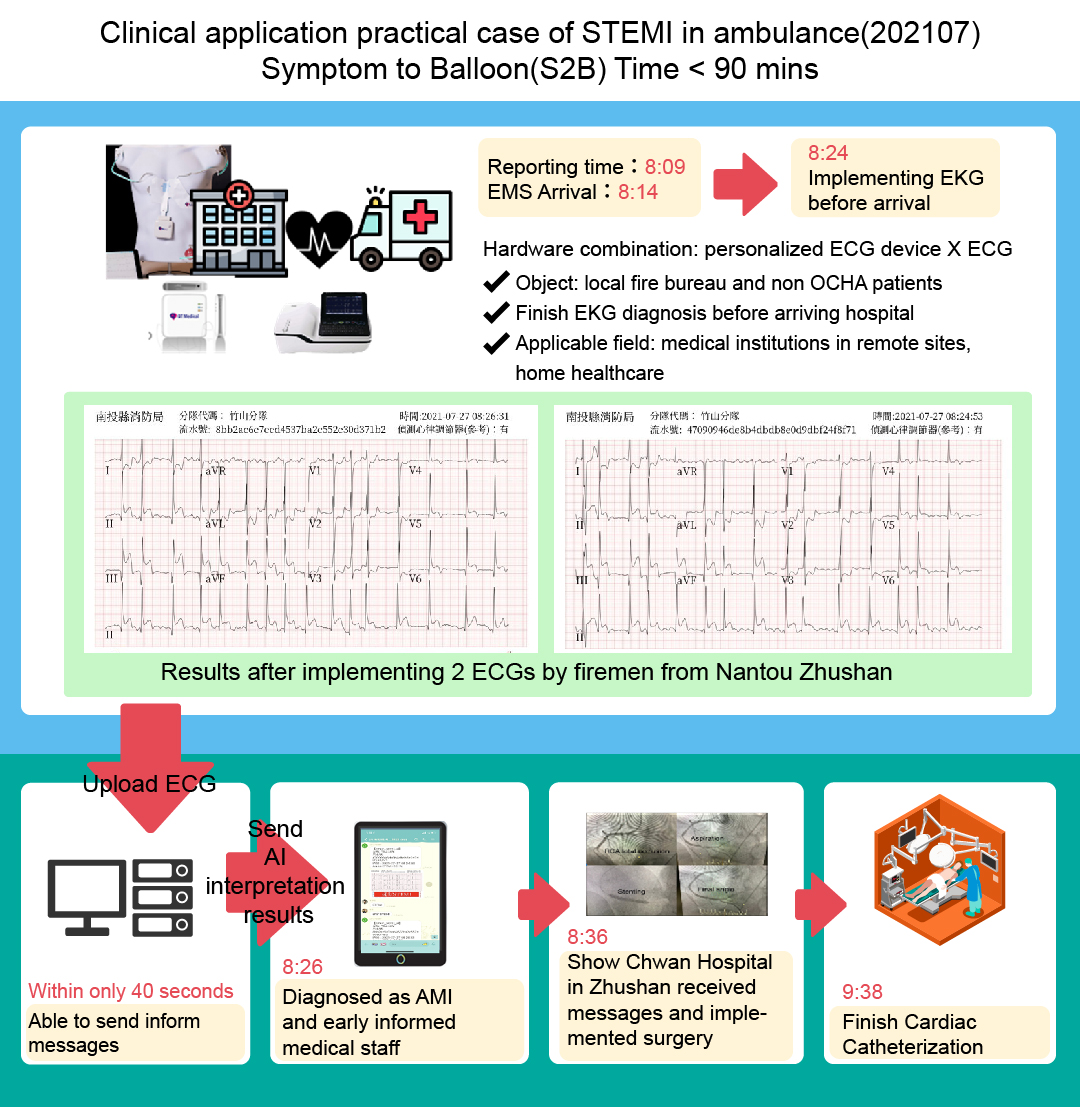 (Figure description)Clinical examples applied to EMS of Taichung and Nantou