Otorhinolaryngology (ENT)
Otorhinolaryngology Specialist Training
Training Department:Department of Otorhinolaryngology (ENT), Head and Neck Surgery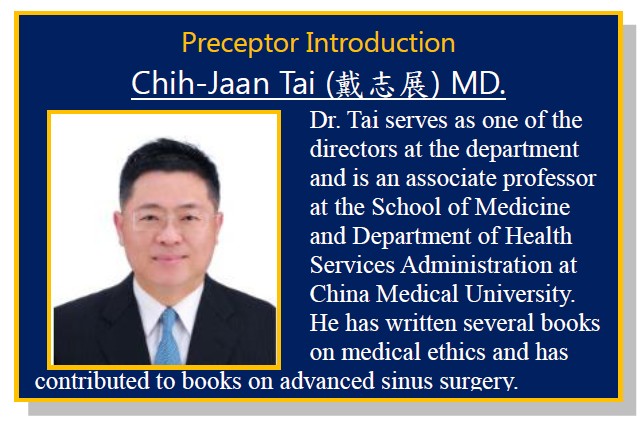 The department includes the sub-specialties of otology, rhinology, laryngology, head and neck surgery, and treats patients with traditional ENT disorders as well as nasopharyngeal cancer, oral cancer, throat cancer, and salivary gland tumors. The unit's inpatient services utilizes four operating theaters with 39 exclusive beds. Outpatient services are conducted in six spacious clinics equipped with double-sided automatic examining tables. The unit's endoscopy room includes a nasopharyngeal fiberscope and an audio strobe tester. Two special examination rooms are equipped with sinus ultrasound, rhinomanometer, voice analyzer, facial nerve stimulator, and electronystagmogram (ENG) to check balance and brainstem auditory reflex. There is also a language therapy room as well as two soundproof hearing examination rooms.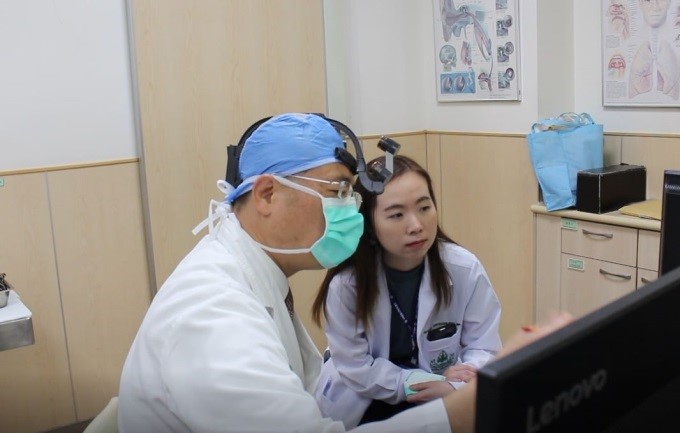 Dr. Tai with a residency trainee from Thailand
Program Highlights:
Functional endoscopic sinus surgery (FESS)
Skull base surgery
Microsurgery
Treatment of other nasal and sinus disorders
Possible patient mix observations include obstructive sleep apnea, neck mass, salivary disorders, voice disorders, vertigo, tinnitus, hearing loss, etc.