Nursing Acoustic Speech Recognition
Because of the heavy workload of nursing staff, in order to shorten their paperwork time (such as handover, writing nursing records), AI Center cooperated with nurses from various departments in our hospital to jointly develop AI nursing ASR software, which can allow nursing staff to speak instead of hand writing, the records of nursing-related work and shifts are automatically produced and archived.


(Figure description)The process of clinical application of nursing staff
By using Automatic Speech Recognition (ASR) technology, this system can automatically generate a text record by AI, which supports Chinese and English mixtures, medical proper nouns and punctuation marks, and provides real-time feedback to correct and optimize the model. Now it can also be used through the nursing app of CMUH.
The correct rate of the current model is over 88% on nursing data. This system has applied for Taiwan patent (CP-5299-TW) and US patent (CP-5299-US).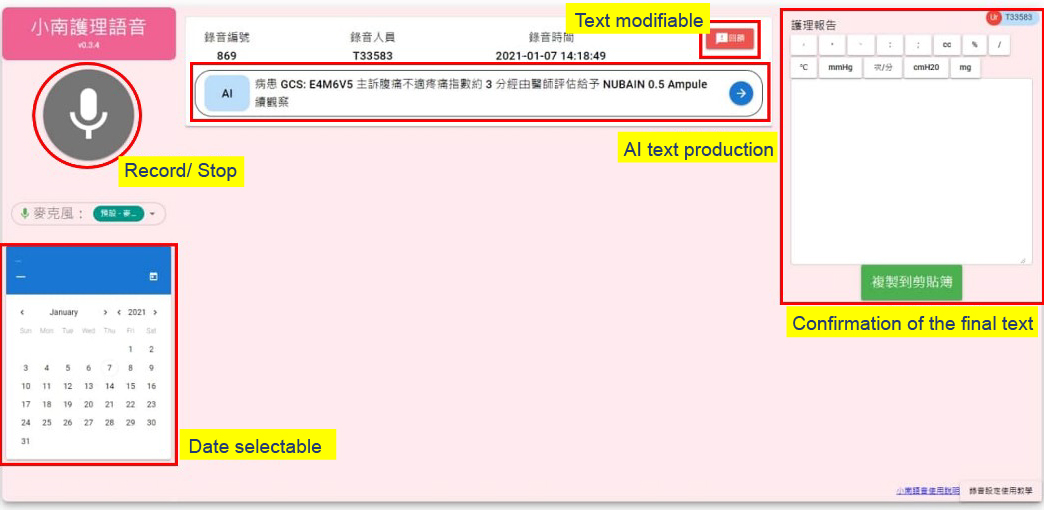 (Figure description)Schematic diagram of clinical interface of Nursing ASR